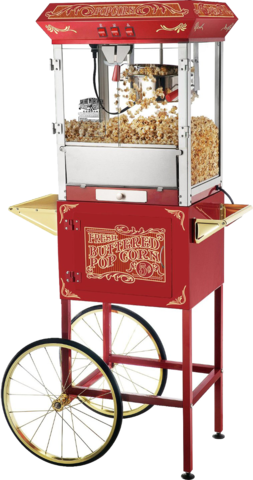 Popcorn Machine
Popcorn machine and cart
add to your order and Make your next party "POP"
A bag of popcorn come in handy anywhere and everywhere. Whether it is for a movie night, a kid's birthday party, family gathering, you name it. If you think you have tasted the best freshly popped popcorn before you are wrong because this machine is the KING of tasty popcorn. The machine comes with a cooker and cart. Having it standing magnificently at the center of your party will have your guest standing on pins and needles waiting for their chance to get a taste of the popcorn. This Graham popcorn machine rental is easy and fast to operate- as it pops 8 oz. of popcorn at a time. With the machine you get free popcorn kernels, oil and bags for 20 servings. Should you need more, there is provision to get additional supplies. With a simple search of Popcorn Machine Rentals near me, you will get this popcorn machine at your next party. Whether you're looking for a cotton candy machine rental, a fun inflatable obstacle course or a dunk tank rental, we have you covered. Our vast inventory is sure to amaze and delight your guests, and we are sure to have everything you could imagine.
Popcorn is always an attention grabber; the smells will keep them coming back for more.
Easy & simple operation. You will have great tasting fresh popped popcorn for the entire party in minutes

Ideal Use For:
Schools
Carnivals
Parties
Churches
Or any environment that needs to grab the attention of the party goers
Comes with:
FREE popcorn kernels
Oil
Bags to serve 20

Additional servings available upon request
Our theater-style popcorn machine pops 8oz of popcorn at a time. This model can also be used as a tabletop model without using the cart