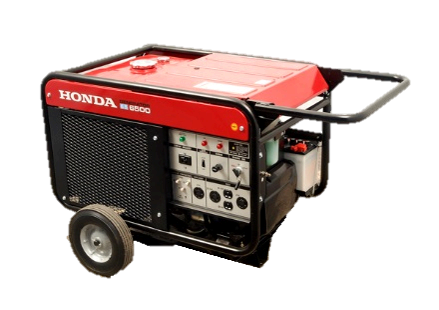 Generator
Generator Rentals are available for your event from Inflatable Event Professionals in Tacoma
6500 Watt, 120/240 V
Need some extra power for the bouncer at your event?

If you are having your party or celebration at one of our beautiful parks or other outdoor locations, you will be probably be required to supply your own electrical power source. Having problems with your household electrical system? Most all of our inflatable bounce houses or interactive game units need one or two 20 AMP separate GFCI circuits for each unit. Inflatables need to be connected to a dedicated 20 amp electric outlet. For most homes this means an outlet on the outside of your home such as deck or garage. A dedicated circuit has its own circuit breaker in your electrical box. It is intended for use with only one product. No additional items should be plugged into it making it dedicated to that single product. Dedicated circuits ensure that appliance/products that draw a lot of energy are able to run properly without overloading your system and tripping or blowing a fuse. Don't let something like no electrical outlet or a tripped breaker keep your party from being spectacular!

Please let us know if you intend to plug in additional items as the rental period is based on 1 -2 blowers on one tank of gas--additional items can overload the circuit and/or shorten the generator run time.

Please note that this generator rental comes with a full tank of gas. If additional gas is needed you can purchase our fuel package or provide your own gas. If you are providing the gas for the generator, please note that premium gas is required when putting gas into the generators.