Community Events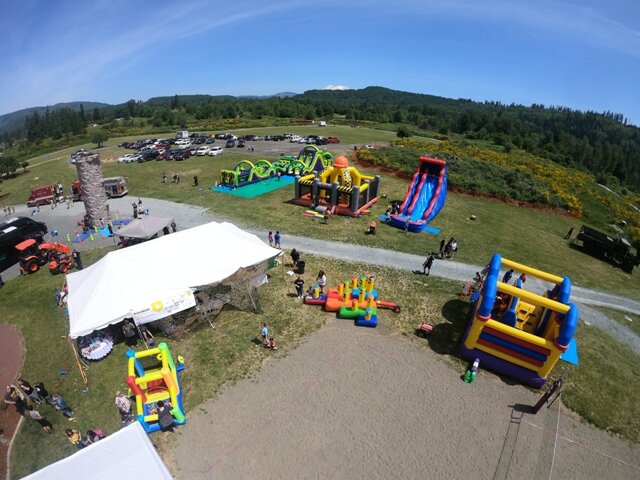 Planning a Community Event, Block Party or a Summer Celebration? Parties, people of all ages and inflatables are a perfect party combination. If you are planning an event, Inflatable Event Professionals in Tacoma can help you make your party day one that will be remembered by all who attend. Regardless of the ages of your guests, we have rental options that will appeal to people of all ages.

Community Events are a great way to meet your neighbors and interact with other members of our community. If you are hosting a block party, festival, fundraising event, a fun run or non-profit event, you should consider adding inflatable bounce houses, Trackless Train rental, inflatable slide and water slides, interactive games, a photo booth and concessions to your event. People will stay at an event longer if activities are provided for the kids and adults. Our inflatables and games will attract people to your event and provide entertainment for the individuals attending your event. In addition to our popular bounce houses, we also offer inflatables game rentals like the Wrecking Ball, Galaxy of Games, Hula Hoop Ring Toss, Birdie Ball, Hoops and Soccer and equipment rentals.
We'll help you select the appropriate equipment and meet your budget. Your initial experience with us will confirm what you have heard: that our experience, professionalism, and prompt service are what makes us stand head and shoulders above others in our field. Inflatable Event Professionals will be the first company you think of when you begin planning for your next event. Inflatable Event Professionals equipment has passed the Washington State inspection and copies of our inspection permits available upon request. If proof of insurance is needed or your party location is requesting that they be added as an additional insured, we are insured and can fulfill their request. We currently service Tacoma and the surrounding areas but can deliver to other areas depending on the size of the event. Please give us a call to discuss your event with one of our event specialists. Call us or Book Online today to get your event started!