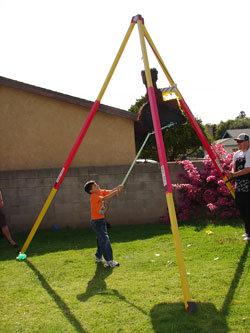 Pinata Stand
Want a pinata at your event but don't know where to hang it up safely? We've got you covered with our safe and fantastic free-standing Pinata Stand for only $99.00.


Adding a piñata to your party or event is fun, BUT, how safe is it especially if you have young ones being who they are, playing and running around everywhere? And also important is how safe it is for you to hang it up? Are you dangling from a tree branch or hanging off a second floor balcony? Do not leave your safety or the safety of your party guests to chance. Get this fantastic free-standing piñata stand and feel free to dive and get lost in the fun and excitement your party brings. For birthday parties or kids' parties in Tacoma or the surrounding areas, get this piñata stand and hang your piñata safely while your kids and guests take their turn in whacking the piñata and bursting into laughter.

Every party should have the latest state-of-the-art safe way to break a pinata at your parties. add your favorite goodies inside and let the kids all have a turn bashing the pinata that hangs from the safety of the Pinata Game Kit stand." Don't let safety dull your party or event, keep your event injury free and get this piñata stand then let the games begin. The Pinata Stand collapsed is 5 feet in height and weighs 60 pounds. When assembled the stand will be 12 – 13 feet tall and will hold up to 25 lbs. Our trained delivery staff will bring the piñata stand and set it up at your event. All you have to do is attach the filled piñata and let the fun begin.