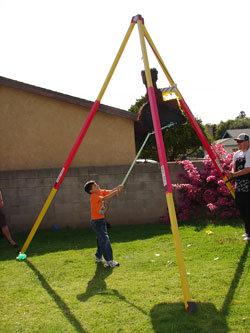 Pinata Stand




$40.00

Please call to reserve this item.





Want a pinata at your event but don't know where to hang it up safely? We've got you covered with our safe and fantastic free-standing Pinata Stand.


Adding a piñata to your party or event is fun, BUT, how safe is it especially if you have young ones being who they are; playing and running around everywhere? Do not leave the safety of your party or event guest to chance. Get this fantastic free standing piñata stand and feel free to dive and get lost in the fun and excitement your party brings. For birthday parties or kids' parties in South Hill, get this piñata stand and hang your piñata safely while your kids and guests take their turn in whacking the piñata and bursting into laughter. Don't let safety dull your party or event, get this piñata stand and let the games begin.