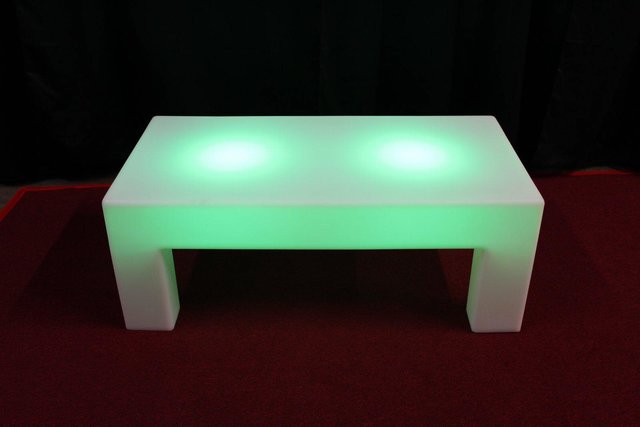 LED Tables
Party Furniture LED Light changing Table

A normal table is good enough for a normal party. However, for people like you who want something unique and extra for your party, you need to rent this LED color changing coffee table. It provides a perfect space to place gifts, food or other things in your party. Its eye-catching color changing LED lit center will be the center of attention and a conversation starter in your event. Hosting a birthday party or corporate event in the South Hill area? Get your guests to enjoy eight hours of beautiful bright colors that change according to your liking and create a superb and outstanding experience for your guests with the help of Inflatable Event Professionals in Tacoma.

The coffee tables are wireless and the lighting effects will last up to 8 hours on a full charge. The coffee tables come fully charged and ready for use at your event. Setup of all LED furniture you reserved is included in the rental price. Please note that the Damage waiver insurance is not optional on our LED tables and must be included in your reservation. Need more than just the tables? We offer a full selection of LED furniture including Curved LED Bars, Cubes, Couches and More.

We want to make sure that your event is something incredibly special and will be fondly remembered by all your guests. We also want to make sure that from the start of the planning process, the actual day of the event and the cleanup afterwards is stress and problem free for you the host of this big event. Everyone at IEP is dedicated to making sure that your event is truly spectacular - from our office staff who can assist you in putting together a great party package, the warehouse team who will make sure that all your equipment is in perfect working condition and our delivery crew who make sure that your items are delivered and set up professionally and in a timely manner. If you have any questions, please don't hesitate to call our friendly and knowledgeable staff at (253) 353-9797.