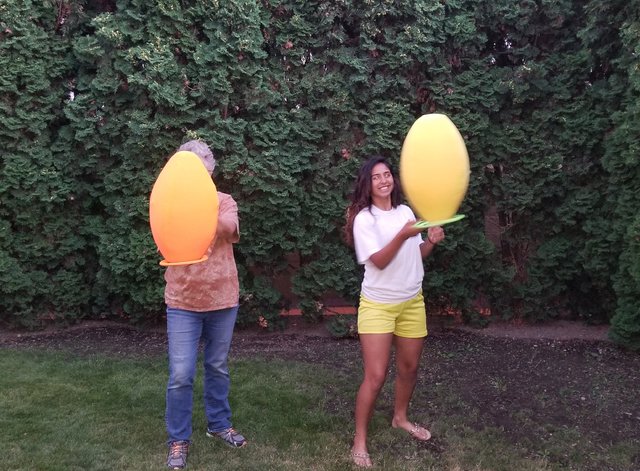 Jumbo Egg and Spoon Set
Jumbo Egg and Spoon Game - Fun for all ages!
The egg and spoon race is fun and exciting but this game, is a bigger and better version of this game. The guest at your kids 'party, social or corporate event will have to move the giant egg using the super-sized spoon from one side to the other creating anticipation, excitement and a thrilling experience for those participating and a spectacular event to spectate for those wh will be watching and cheering the participants on. It is an interactive game that will help in creating bonds and team building and at the end of your party everyone will feel like the day was way too shot. For your kid's birthday parties in Spanaway, get this kids party game rental and they will forever be grateful. Comes with (6) 12" x 20" eggs and (6) 8" x 15" spoons. Soft fabric construction and six different colors. One egg and one spoon each in blue, green, orange, purple, red and yellow.

Do you need to create amazing outdoor celebration party location? Inflatable Event Professionals in Tacoma can assist you with our tent, table and chair rentals. For a traditional setting, our classic popup tent canopies are available in several colors and provide great protection for sun and rain, as well creating defined party space. Want the feel of a Carnival at your event? Then consider our Red and White Carnival tent to your reservation request. For a more contemporary or magical feel to your event, please check out our LED Furniture rentals. Our LED color changing furniture options will provide you with the furniture you need and special lighting for your guests. Party furniture rental options include: a LED portable bar, cocktail tables, cubes, chairs and couches. If you are looking for high quality party equipment rentals, exceptional customer service, an excellent safety record then IEP is your #1 choice.