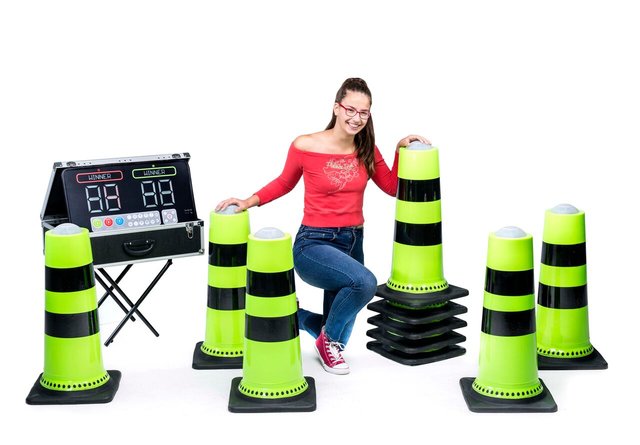 IPS Sports Cones
IT'S FINALLY HERE AND READY FOR YOUR NEXT EVENT
Interactive Sports Cones game rental for only $449.00
This game puts the 'interact' in interactive. It is a new fast-paced and high-energy interactive game- which will keep all participants sweating and laughing their hearts out. The interactive game rental comes with extremely versatile sports cones that are perfect additions to different games. It's perfect for adult party rentals. The sport cone's tops light up with green and yellow colors and you score points by tapping as many cones with your color as you can. The package comes with 10 sports cones and an interactive play system. Its weight is light and can be set up almost anywhere. It does not require electricity to run. The cones are connected wirelessly to the scoreboard system. Tap your cones' colors when lit to score points. The person with the most points at the end of the game wins.

This is the perfect game for any event. Add this game rental to your next party or event. Bring out the competitive sides of your party guests out in a fun and safe environment and create memories and thrilling moments that are worth reliving. If you are looking for the ideal party game rental to take the fun in your event in Tacoma a notch higher, the IPS Sports Cones are the way to go. Using your imagination – there are a number of different types of games setups and challenges. Our cones can be used at School Carnivals, Corporate Events, Birthday Parties, School Events, Team Building Events, Sports Camps or even when Exercising.

Need more to keep the guests entertained- Our Bounce Houses, inflatable slides, game rentals, slip and slides, dunk tanks and other party rental items will provide the physical activity, recreation and fun that is guaranteed to be a hit. From toddlers up through adults - if you are looking for quality party rental items, incomparable customer service, and excellent safety record then Inflatable Event Professionals is your best choice in the Tacoma area.