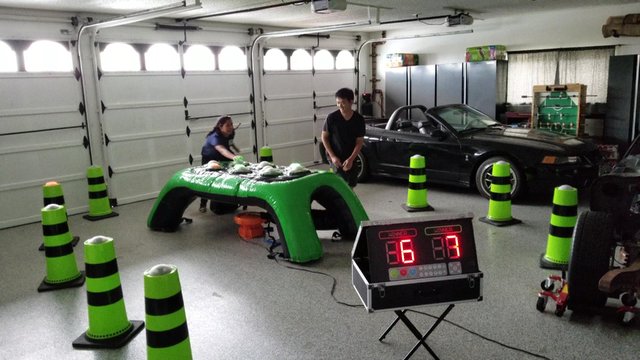 Interactive Play System, Game Table and Sports Cones




Please call to reserve this item.

Interactive Play System, Inflatable Gaming Table and Sports Cones $799.00
For an ultimate, interactive and energy pumped gaming experience this interactive game rental is a must-have. It is unique and every guest or attendee at your adult only party, social or corporate event will want a taste of it. The state-of- the art interactive play system will keep the participants and even the spectating guests captivated throughout the gaming experience as they watch the competitors fight to tap as many spots as possible. For your event in Tacoma to stand out, all you have to do is search for adult party rentals and choose this amazing rental and have your guest interacting 101%.

This game rental comes with an interactive play system, inflatable game table and 10 sports cones that light up in different colors. When your color lights up you tap on the table or cone to earn points. It is a great addition to parties and events like birthday parties and corporate events. Bring the competition to life in a fun and safe environment and create memories and exciting moments that are worth reliving. If you are looking for the ideal adult party game rental to take the fun at your event in Tacoma a step higher, this game rental is the way to go. The table and cones are connected wirelessly to the scoreboard system. This is the perfect game for any event.

We can help you create breathtaking outdoor party spaces with our tent, table and chair rentals. Our LED party furniture rentals will allow you to add a colorful and magical feel to your event. Or our classic 10' x 10' popup tent canopies rentals are available in several colors and provide great protection for sun and rain, as well creating defined party space. We can even add the feeling of being at the carnival with our Red and White Carnival tent rental. Top it off with tables, chairs and benches for extra seating, food service space and more!