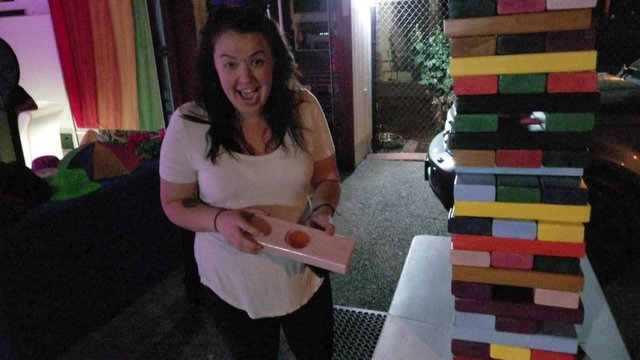 Giant SURPRISE Hardwood Game
SURPRISE Giant Hardwood Game Stacks to 5+ feet.
Created just for your event by Inflatable Event Professionals in Tacoma
Great for kids through adults!!!
What do you have in store to keep the guests at your party captivated, excited and happy every second of the events? Need to keep the party mood upbeat and exciting - Add a little mystery to your event with our SURPRISE Hardwood Yard Game Rental. The blocks can be stacked at tall as your ability can take you and is a great game for any type of party. Can be played as a team or as individuals. Who among the guests at your party will bring the tower crashing down? Guests take turns removing the colored blocks and placing them back onto the top of the tower. The goal is to build the tower as high as possible (using only one hand) --- without making the tower fall.
Besides offering a giant / oversized game and more exciting gaming experience, this game brings a unique and unexpected twist and comes with a little surprise factor because some of the blocks come with hidden compartments for you to add prizes and goodies for your guests. The party guest who can spot the block with the hidden prize spot, will get a special treat.
This game is the perfect addition for a Birthday Party, company event, School field day or any other social gathering. This game rental can be played by one or more players. You can feel the excitement and expectancy in the air, increase with every move as you wait to see who will bring the tower down. If you are looking to have everyone delighted, connected, and having a great time, this game rental from Inflatable Event Professionals in Tacoma is perfect for your event.