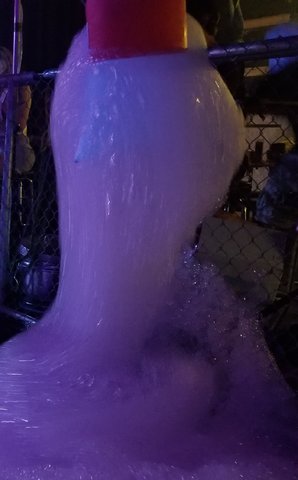 Foam for 2 machines, 1 hour
Want lots of Foam? Having an all day event or multiple day event? We may need to add additional foam packages to your order. Please give our knowledgeable customer service staff a call and they will be happy to help calculate the amount of foam needed for your special party, based on the length of the event and the size of the foam pit.

Foam Information – Our foam is 100% organic, with no extra additives (fragrances, dyes or colorings) to irritate the skin, eyes or your grass. The foam used in our foam machines is made in the USA and has approved by a board-certified dermatologist. One foam package will be mixed with water and will last about 1 hour (this will depend on the amount of bubbles you want produced, the size of the area that needs to be covered and will the bubbles be in a contained area. It is hard water resistant and cold water soluble.

We want to make your party or event planning experience fast, easy and stress free. You can place the reservation for your party on our website or call our friendly and knowledgeable staff at (253) 353-9797.
Just check your calendar for the best day

Select the Date and Time of your event

Review our website and select the items you want to reserve for the party and add them to the cart.

Answer a few questions about your event

Pay the deposit online and your party is reserved. Confirmation email will be sent regarding the confirmation of your event.
If you are looking for high quality party equipment rental items for guests of all ages, exceptional customer service and excellent safety record then Inflatable Event Professionals is your best choice in the Tacoma area.