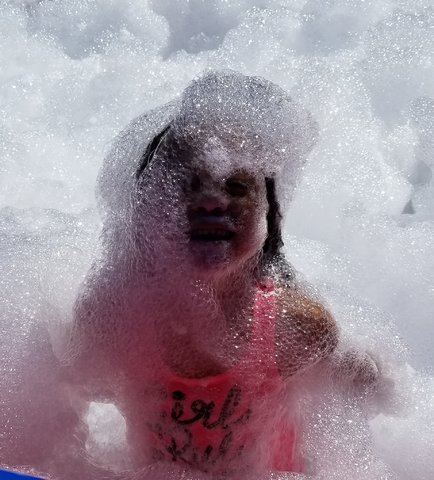 Foam for 1 machine, 1 hour




Please call to reserve this item.

Foam for 1 machine~ Have the ultimate Foam Party when you rent our Foam Machine and Foam Packages. Foam parties are a unique idea that will have everyone at your next Party having a blast in the bubbles!
Additional Foam Packages for one foam Machine rental. $35.00 Provides one additional hour of foam.
Having an all day event or multiple day event and need more foam? Additional foam packages can be added to your order. Please give our customer service staff a call and they will be happy to help calculate the amount of foam needed for your special party, based on the length of the event and the size of the foam pit.
Foam Information – The foam used in our foam machines is made in the USA and has approved by a board-certified dermatologist. It is 100% organic, with no extra additives (fragrances, dyes or colorings) to irritate the skin, eyes or grass. The solution is hard water resistant and cold water soluble. One foam package will be mixed with water and will last for approximately 1 hour (this will depend on the amount of bubbles you want produced, the size of the area that needs to be covered and will the bubbles be in a contained area.

Looking for other party equipment rentals to round out the entertainment for your event? We have rental options for guests of all ages. Here are some suggestions:
Dunk Tank – dunk your family, friends and party guests at your next event. Please note that only people 18 or older can sit on the seat inside the dunk tank.

Train Rentals – We have an outdoor trackless train for rent that will give all the children at your event a thrilling and magical experience.

Slip and Slides – we have single and dual lane slip and slides rentals available for your next event. You can even add in a foam package to enhance the experience

Concession Machine Rentals – We offer Cotton Candy, Popcorn and Snow Cone machine rentals.

Photo Booth Rentals – This is the perfect opportunity to capture special pictures of all the guests at your event. They can immediately share the pictures on social media, and you get access to all the pictures taken at your event.

Portable Bar rentals – We have our amazing inflatable Tiki Bar and an LED curved bar available for used as beverage or food stations.
Give Inflatable Event Professionals in Tacoma a call to discuss all our party equipment rental options for your corporate events or birthday party.