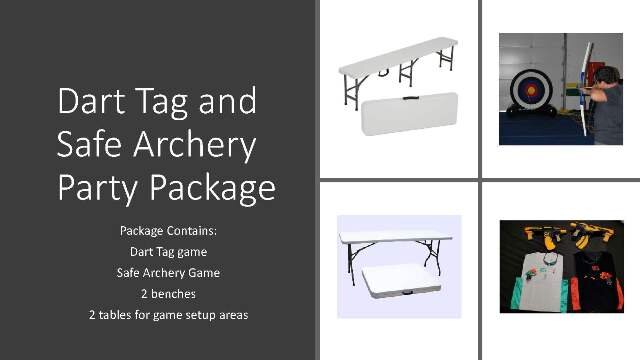 Dart Tag and Archery Party Package
Dart Tag and Safe Archery Party Package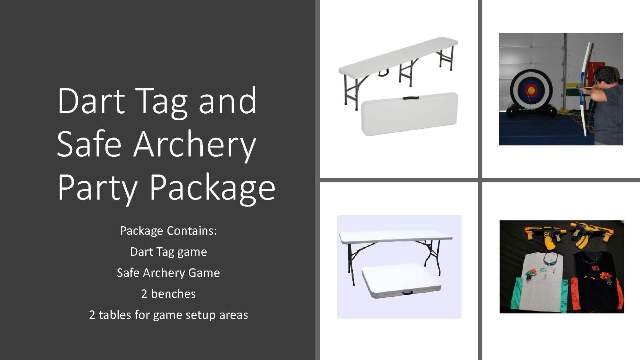 Who is the best at your event?
Test yourself and your other guests with our Dart Tag rifle & pistol set and our safe archery games
$464.00 for rental up to 6 hours.
Hey Mom, Hi Dad – take cover as the nerf darts and safe foam tip velcro arrows start flying at your next party or event. Let your guests test their shooting skills against each other at this fun packed party. This rental package lets your guests can practice their shooting skills as they enjoy the party. It is fun, exciting, competitive, and challenging. The SAFE archery game comes with 2 S.A.F.E. bows and 6 S.A.F.E stickit arrows. You can play individually or as a team. Put your skills to the test and challenge your guests to join in the experience as well.
It is safe and everyone can participate meaning that no one will be left out. The fun and laughter could not getter that this. Get this amazing rental for your next Tacoma party from Inflatable Event Professionals.
Here's what's included in the party rental package:
Dart Tag:
8 rifles, 4 red pistols, 4 green pistols, 8 vests, 8 sets of glasses, 24 pistol stick it darts, 80 rifle stick it darts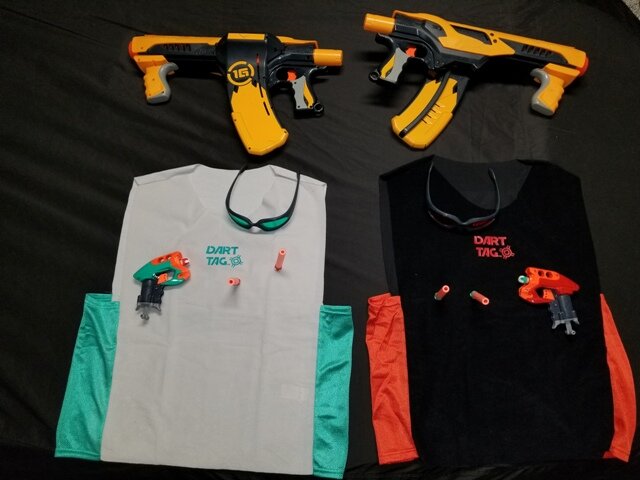 Stickit Safe Archery
Inflatable target, 2 bows, 6 safe arrows, 2 safety glasses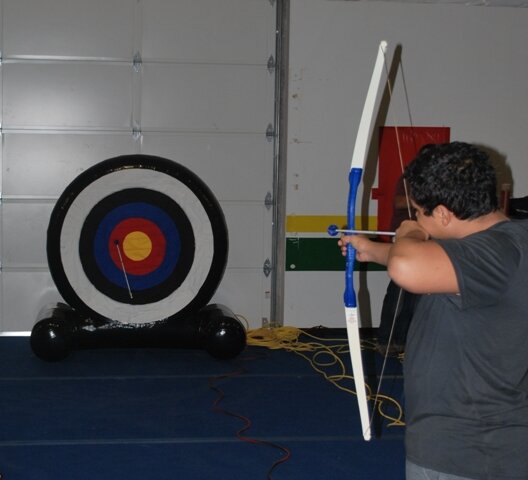 Two Tables and 2 benches
How it works: We will drop off the equipment at your party venue & show you how everything works. We will then let you take it from there or you can request one of our employees remain at your party to run the games for an additional fee.
Rules
Do not throw or drop your equipment on any hard surface.
This is a no contact sport. No running into to people or knocking them down
Do not deliberately cover your vest so that the darts can't hit it & you can't be tagged.
Please do not purposely aim your equipment at the eyes or face.
Always use protective glasses
Shoot the arrow only at the inflatable target, Not at people
Max Users: 8