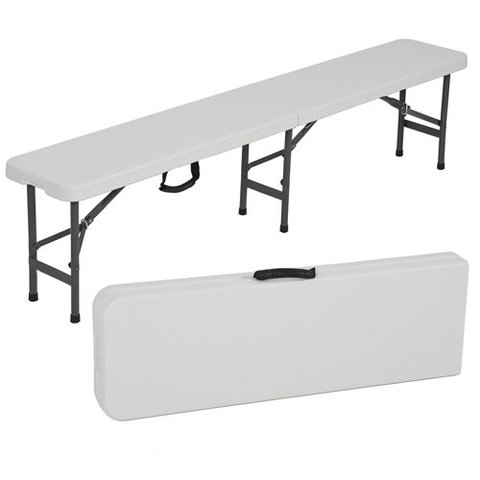 Bench
Our white benches can be used for seating or a place for party items!

These white benches are perfects for social and corporate events. Besides creating extra sitting space, they can be used to place party items like food, gifts and beverages. Being white they add to the glamour and elegance of the event's set up and they brighten up any location they are brought to. Whether it is a kids' party of adult event, this bench rental is the perfect choice. Get comfort, extra space and guests who are happy and excited for the party or event. Get this bench rental in Puyallup for your event. They are the most sought-after additions to our birthday party rentals.

Whether you are planning for a small or large party or event in the Spanaway and Tacoma area, we have got what you need to make your event a success with our party equipment rental items and supplies! We delivery to most areas in Pierce County. We primarily focus on the Spanaway, Puyallup, Graham, Tacoma, and the Lakewood areas. But we can deliver to other areas in Washington. Please call one of our customer service representatives for additional delivery information.

Want to enhance the party experience for your friends and family? You can add more challenges and entertainment for your guests! Think about adding our Photo Booth rental, inflatable games, interactive games or by having a foam party at your event.

We have made the planning of your party a breeze. After you have determined the perfect date and time for your event. Take your time on our website finding the rental items needed to keep your family and friends entertained at your event. Then book your event online from our website.

If you need assistance planning your event, our experienced party planning staff is ready to assist you and answer all your questions, give Inflatable Event Professionals in Tacoma a call today at (253) 353-9797.