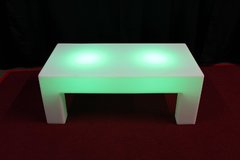 LED Light Changing Table
$65.00
Center Table with color changing LED lights
This Center Table which is 48"L x 24"W x 18"H and comes with color changing LED lights provides you with extra space to place presents, food and much more. You can choose from a single color or fade between colors and it also allows you to chose from strobe, flash or slow changes.
This center table is perfect for any furniture combination and can be used both indoors or outdoors
The rental comes fully charged and ready to use. Each charge will last up to 8 hours. Damage waiver insurance is not optional on this rental and must be included in your order. Setup is included in the rental price.