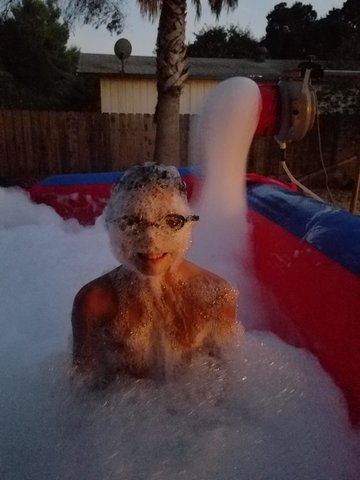 2 Foam Machines




Please call to reserve this item.


You will have loads of fun playing in a mountain of FOAM!
Great for all kinds of parties.
$360.00 for a rental up to 6 hours.
What would playing in mounds of thick foamy bubbles mean for you, your kids and your guest in your next party or event? Well, you do not have to imagine it because thanks to this 2 Foam Machine foam party rental, your corporate events or parties will be a blast. Create beautiful and unforgettable memories in a refreshing, safe, and unusually exhilarating foamy bubble world. The 2 foam machine pumps out tons of bubble in a record amount of time, gracing your event with over 2 hours of unstoppable foam and fun. The foam is a hundred percent organic and natural and totally safe for anyone and everyone. All you need is rent out this fantastic party rental, where we don't bust bubbles but instead create more. Pair the foam with a giant inflatable slip & slide or water slide for the ultimate foam experience.

This rental requires the addition of 2 paid attendants to run the event and monitor the equipment.