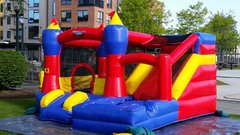 Misty Kingdom
$240.00
Are you burning up but don't want to go to the Puyallup Water park?
Well than bring the water park to you with this Amazing Water slide and Bounce house combo. Guaranteed your smaller guests will love what they see. Need a Pinata Stand we can help you out and make the process much easier than hanging a rope in the trees or off your 2nd story balcony.
J
ump, Slide & Splash Around in Misty Kingdom
Your children will be amazed when you bring a waterpark to your yard or garage for their delight
Your child and their guests will have so much fun in our Misty Kingdom Castle Bouncer, what boy or girl doesn't dream of being a prince or princess for a day!
The Misty Kingdom Castle Bouncer is One of our Favorites here in the Pacific Northwest because it can Fit in your Garage Rain or Shine
Actual unit Size: 13L X 14W X 8H
Set up Area: 23L X 24W X 13H
Outlets: 1
Max Players: 6
Max User Weight: 200lbs
Max Gross Weight: 900lbs