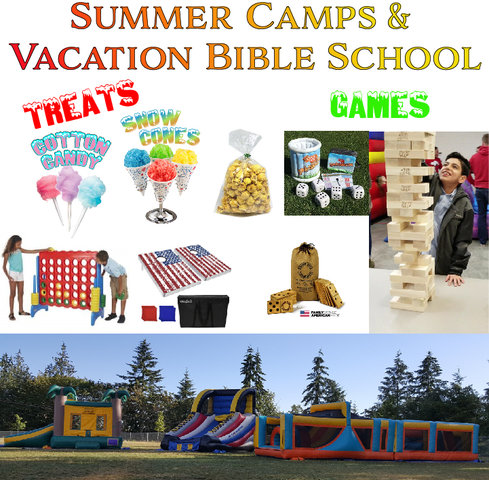 Summer Camp and Vacation Bible Schools
Monday through Thursday Special

Summer Camps, Day Care Facilities and Vacation Bible Schools
You can mix and match any of our inflatable bounce houses, water slides, obstacle courses or interactive inflatable games and enjoy the rentals for 8 hours at the 6 hour price. You get 2 hours for free only from Inflatable Event Professionals in Tacoma!

Please call our office for additional information and to reserve your bouncers today! Our friendly customer service representatives are waiting to assist you.

What do you have planned for your next summer camp or vacation bible school event? Is it your ordinary everyday activities? Why don't you twist it a bit and give it a new and unique touch, creating a whole new experience? For your next Lakewood summer camp or vacation bible school party, all you need to do is search for 'party rentals near me' and choose the IEP summer camp and vacation bible school package, and you get to mix and match any of our bouncers and enjoy them for a total of 8 hours. Get your attendees excited about your event by having this special inflatable package and have them flocking to your event. Break the monotony of summer camps and vacation bible schools by adding your own twist of fun and excitement. Let your attendees learn, grow, and have unlimited fun.

We are sanitizing all surfaces according to CDC guidelines. Not only are we continuing our long-standing deep-cleaning process between every rental, we also now spray on a second CDC / EPA - approved disinfectant product at the time of delivery - on-site and under your supervision - which sanitizes all surfaces and dries for safe use in just 10-15 minutes!
Please give our friendly customer service staff a call today.