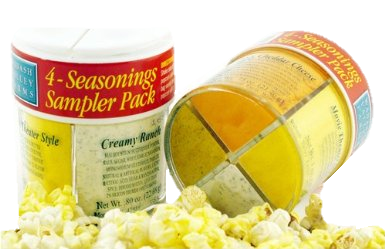 Popcorn 4 Season Sampler Pack
Worried about what flavor to choose?
Well, why have one flavor when you can have four!!!!
Try our Popcorn 4 Season Sample Pack.
Jazz up the popcorn served at your event. Order some of our delicious flavors and let your guests choose how they want their popcorn to taste. There are a variety of flavors available and with the sample pack you are sure to have something to please all your guests.

•Movie Theater Style
•Creamy Ranch
•Zesty Cheddar Cheese
•Buttery Herb & Jalapeno