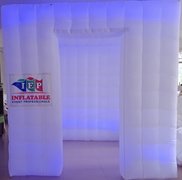 LED Photo Booth
$160.00
Please call to reserve this item.
Are you renting our iPad Pro 10.5 Ring Light Photo Package?
Upgrade the background to our 8
'W x 8'L x 8'H
enclosed inflatable photo booth.
This 8'W x 8'L x 8'H photo booth comes with LED color changing lights and remote.
You need this photo booth at your next event, company party, wedding or a kids birthday party - in addition to providing a great event and building memories - your party guests can capture a memory and share it on social media.