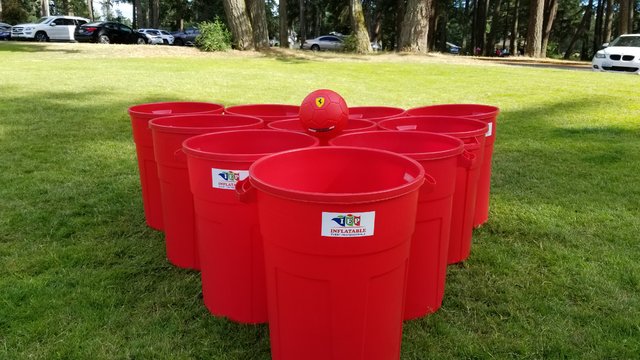 Mega Root Beer Pong, 20 can set
Actual Size: 25W x 25L
Setup Area: 25W x 25L
Outlets: 0
Attendants: 0




Mega Root Beer Pong, 20 can set - $250 for 6 hour rental period
Order our 32 Gallon red plastic "cups" and an oversized "ball" for your next event.
This game will keep your guests of all ages entertained for hours and is available from Inflatable Event Professionals, serving Tacoma and the surrounding areas.

Do you enjoy some old classic beer pong game? Magnify your abilities of basketball and ping pong to master the mega Root Beer Pong Game! Well this is the giant version of this game because it comes with a giant pong ball and a set of 20 cans with a capacity of 32 gallons. You can have 2-6 players, the more players the more FUN! The object is to throw or bounce the ball into the other teams' buckets and eliminate all of the other teams' buckets before they eliminate all of yours. Just imagine all the crazy things you can do with your family friend or colleagues if you had this yard game rental. Well stop imagining and get it adult party game rental for your next event or party. Get your guest busting in laughter as they attempt to dunk the pong ball in one of the cans and you can add some more fun by including an exciting 'punishment' for every time they fail. This is the best game rental in Graham and a must-have at your event.

Make sure to have at least 30 ft for setup, the Red barrels, and the balls are included. Break up into teams and throw the volleyball towards the red barrels if it makes it in the can then remove the can and set aside. The team with no can Lose all your cans and you have lost the game. The remaining team is the winner and gets the bragging rights!