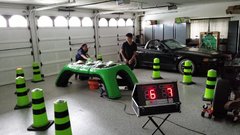 Interactive Play System, Game Table and Sports Cones
$500.00
This new addition to our inventory will be enjoyed by all ages and at any event!
Looking for a fast paced high energy game that will improve your hand and eye coordination - this is the game rental for you.
Interactive Play System, Inflatable Gaming Table and Sports Cones


The interactive spots on the game tables and cones light up at random and the players have to tap the spots as fast as they can when they light up in order to score. When tapped the point is wirelessly sent to the electronic scoreboard.