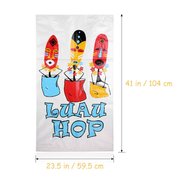 Luau Hop Sack Race
$18.00
It's a Luau Hop Race for your next event!
Each colorful potato sack will fit in perfectly with your Luau or tropical themed party.
Set of 6 - Luau Hop Sacks
Great for kids and big enough for the adults to have fun too.
Having a tropical or luau themed event? There is no better party game to get everyone involved that a potato sack race.