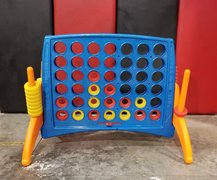 Junior 4-To-Score
$40.00
Compete with your family and friends in Junior 4-to-score game. This is a giant version of the classical table top ring dropping game. Players need to connect four of their own rings in a row - horizontally, vertically or diagonally - before their opponent does. This game will provide hours of fun indoors or out. Need more excitement - Who does not like playing in mountains of Foam. Add a Foam Party to your event and see the kids jumping with joy!
Junior 4-to-score


Giant version of the classic ring-dropping game; Made just for your smaller guests! Great for two players or with teams.
This game can be used indoors and outdoors, no matter the Washington weather.
Recommended for use by ages 3 and up