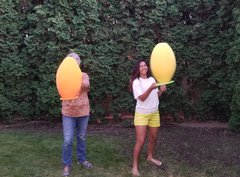 Jumbo Egg and Spoon Set
$20.00
Do you love the original egg and spoon race game? The game has been improved and taken to a whole different game level. This is a very popular game that helps improve hand-eye coordination and balance and combines the experience with loads of fun for everyone.
Jumbo Egg and Spoon Game - Fun for all ages!
Comes with (6) 12" x 20" eggs and (6) 8" x 15" spoons.
Soft fabric construction and six different colors. One egg and one spoon each in blue, green, orange, purple, red and yellow.