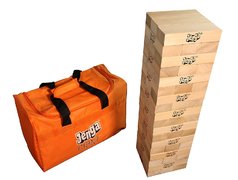 JENGA® GIANT Hardwood Game
$50.00
Jenga is one of the most popular games in the world and now you can take it to a whole new level with our giant version of the table top game.
JENGA®
Giant Hardwood Game
Stacks to 5+ feet. Ages 12+
The biggest Authentic hardwood Jenga game ever sold! Can stack to over 5 feet high in play!
Now it's a SPORT! Fun to Play! Exciting to watch!
54 Precision crafted polished hardwood blocks, each one nearly 15 times the volume of a Classic Jenga Block.
For one or more players, ages 12 to adult.