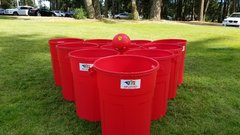 Giant Root Beer Pong, 12 can set
$100.00
A giant version of the table top Pong game. Giant Root Beer Pong - 12 Can Set

Our giant sized version of Pong is a must have game choice! Order
our 32 Gallon red plastic "cups" and an oversized "pong ball" for your next.


Fun for kids of all ages -With our new Giant Pong game, you take the excitement of the game of pong to the next level.
You play this game the same way as pong. The object is to throw or bounce the ball into the other teams buckest and slimiate all of the other teams' buckets before they eliminate all of yours.
This is great choice for birthday parties, graduation parties, corporate events and family reunions. You can entertain your guests for hours with this version of pong.