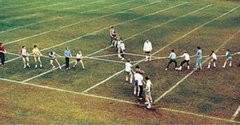 4 way Tug of War Rope
$50.00
A new and improved version of the classic Tug of War. This is a very popular group activity allowing up to 24 people to play at the same time. Which team can pull the hardest?
4 Way Tug of War Rope
20' Team Lines extending from a 10' Square in the middle.
1" diameter rope with hand-loops on each end.