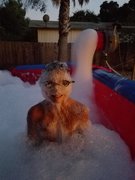 2 Foam machines
$360.00
Please call to reserve this item.
~ Why only get 1 foam Machine when we offer 2 for a very Low price?
Specialized foam machines and a special foam mixture will pump out tons of bubbles in a record amount of time. Children & adults playing in mounds of thick, foamy bubbles will create memories that will last a lifetime. Pair the foam with a giant inflatable slip & slide or water slide for the ultimate foam experience.

You will have loads of fun playing in a mountain of FOAM! Great for all kinds of parties.
Comes with 2 foam machine and up to 2 hours of foam. Great for every type of event or party and your guest enjoy a refreshing, safe and unusual party activity.
The solution used in our foam machines is 100% Naturally Organic, making it 100% safe for you, your guests and the planet.
Use it at your next kids birthday party and see how much fun the kids have playing in the foam