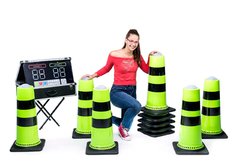 Interactive Play Sports Cones
$350.00
This is the Best Interactive Game rental available for rent.
The Interactive Sports Cones is a new addition and will be a great addition to any event!
Interactive Sports Cone
Use your imagination and you can set up a number of different types of games and challenges. You can even use them when exercising.
The set includes the Interactive Play system and 10 sports cones! The person with the most points wins. This is the perfect game for event.