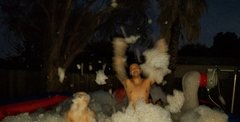 Indoor / Outside Foam Party
$510.00
Rent the Foam Pit and Foam Machines for your next event and give your guests a special treat. Everyone will have a blast when they jump into our foam. This is the ultimate playing in bubbles experience.


Let us bring one a Foam Party to your location. Adults will love playing in our foam. The solution used in our machines is 100% safe for you, your guests and the planet and is Naturally Organic. Our 25' x 25' Pit fills with foam in minutes. Foam pits are used to contain the foam inside the party pit and can be used on grass or on hard surfaces. Take your event to the next level. Mix in LED Furniture Rentals, music with the foam bubbles together to create the perfect event and lasting memories.
Great for all parties.
Indoor / Outdoor Pit and 2 hours of foam.
Perfect for every event or party indoors or outside. You and your all guests will enjoy a refreshing and unusual party activity.
The solution used in our foam machines is 100% safe for you, your guests and the planet.
Rent our Foam Pit and Foam machines and see how much fun everyone has playing in the foam at your party.
Foam party arena can be used on hard surfaces or grass.
Professional-quality bubble solution is long lasting.
Space Required: LWH 20x20x11
Power Outlets: 3
Note: Requires (2) water spigots and Hoses near the setup area.